Convert normal text into Facebook Font Changer
😲💜 ⒻαCє𝐛𝐨όⓚ Ⓕ𝔬𝔫𝕋 Ⓒ𝔥aᶰᵍᵉг ☞🍭
Write a stylish name on Facebook with the help of a Facebook font changer. Our Facebook font generator changes the boring text in just a couple of moments with different stylish variations from where the best one can get easily picked by just doing copy and paste.
Facebook has become the world's biggest social media platform with millions of daily active users. These users share their contextual and visual content to share it with their friends and followers. Most users want to make their profiles more attractive and eye-catching.
To make their profile catchy they try different strategies. One of the best strategies is to use special aesthetic fonts for Facebook on their accounts bio, post captions, and comments different from others. When someone uses a cool stylish bio their profile will give an amazing impression to its visitors.
There are hundreds of brands that change their Facebook font to make their posts more attractive. When someone sees any attractive font they must read that font. That's how brands target their audience on different social media platforms. You can also use our fonts for Twitter to get stylish numbers for Twitter sharing.
So what are you waiting for? change Facebook text with our Facebook font generator and make your profile more catchy and special than others. If you are a social media influencer you can also use Facebook cool fonts from our tool and use these special fonts in your Facebook post captions as the special fonts for Instagram do.
Why Choose Our Text Changer for Facebook
You have more than one reason to choose our Facebook text changer. We completely understand that a stylish name on Facebook can make a profile more attractive to the audience. As everyone has their one taste and font selection that's why there are different Facebook caption fonts available in our tool.
When someone writes their normal text in the search bar our Facebook font generator instantly provides different variations from where users can pick the best one according to their taste.
It is very easy for everyone to use this tool. We have designed a text changer for Facebook in such a way that a teenager and an old man can use it without facing any issues.
Use of Stylish Name on Facebook
Name is the first thing that others note when they visit someone's profile. What if someone's Facebook name is written in a stylish font. Does it attract others? Does it give a catchy look? Does it give an effective impression on others? Definitely, your answer will be yes.
Then you should also use a stylish name on Facebook to impress your friends and followers. Use our Facebook name converter and make your profile more impressive. This strategy will also help you to increase your social media followers.
Facebook Fonts Copy and Paste
Facebook stylish writing has become very easy with our Facebook font changer. It allows users to simply copy and paste your simple text and get special stylish fonts that are specially designed to make your Facebook profile more impressive. We designed our Facebook font changer tool in such a way that users of any age can easily use it and get their fonts for their Facebook profiles.
Real-Time fb font changer
We care about your valuable time that's why de developed this tool in such a way that you just have to type or paste your simple text in the search bar our tool will generate Facebook cool fonts immediately without wasting your single second. It provides many verities from which the users can choose any verity according to their needs.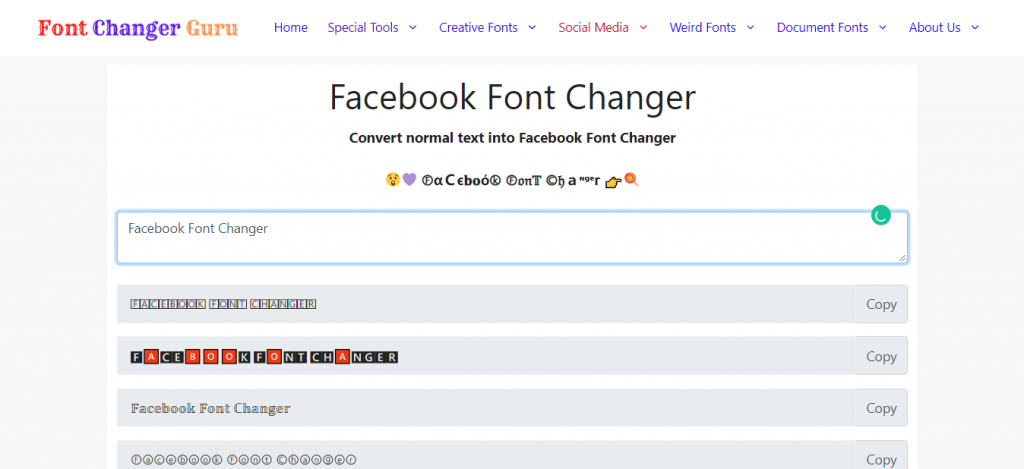 No Need to Download Any Extra App
We care about our user's comfort that why we developed a font changer tool that makes Facebook writing very easy. Now there is no need to download any Facebook font changer app on your device which takes time in downloading and then in installing.
Font changer apps also take some storage space in your device. So there is no need to download any such application on your device. Simply use the online font changer web tool and make your life easy.
Compatibility of Facebook Font Generator
One of the best features of our Facebook font changer is that it is compatible with every kind of digital device like Mobiles, Tablets, and Personal Computers. Our online font converter tool perfectly works on every screen. Its search bar fits and easily works on big and small screens same. That's why we had a great experience with mobile screens too.
Simply we can say our tool is compatible with every kind of screen. There is no need now to download software on your PCs. Get your Facebook fonts online whenever you want.
Conclusion
Facebook font changer is one of the best Facebook font generators which converts simple text into Facebook cool fonts for you in just a few seconds. It also provides different variations of Facebook fonts from which users can choose the suitable for their needs by just doing copy and pasting.
Our tools search bar is compatible with every screen. Users can use it online on any device without downloading any extra applications on their devices, which may take some extra time in downloading and installing.
FAQs
How to Write Different Fonts on Facebook?
Simple use our Facebook font changer online tool. Write simple text into the search bar. The Facebook font generator will convert this simple text into different cool fonts for Facebook. From where users can select the best one in just a single click.
How to Use Different Fonts on Facebook?
There are many ways to use different fonts on Facebook. The easiest way to is generate cool fonts from Font Changer Guru and use this font on Facebook to make user content more attractive.